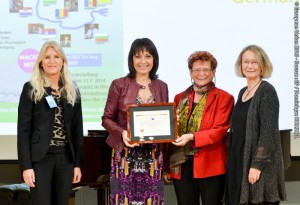 The European Parliament has awarded the Ulm-based international project "The Wanted Danube", represented by its coordinator Carmen Stadelhofer, with the "European Citizen's Prize 2015", as confirmed now by European Parliament Vice President Sylvie Guillaume in Brussels. EU Parliament members Evelyne Gebhardt (Germany, SPD) and Michael Theurer (Germany, FDP) had nominated the friendship project with its 6.000 participants from eight European countries along the river Danube, which was wrapped up in July 2014, for the competition.
The "European Citizen's Prize", given by the European Parliament annually since 2008, awards citizens, groups, clubs, or organizations who have proven special commitment in enhancing a better mutual knowledge or in intensifying integration between citizens of different European Union's member states. The European Citizen's Prize ceremony for all-Germany winners was held in Berlin in the second half of September, the all-European award winners were honored in Brussels, October 14 and 15.
At the same time "The Wanted Danube" also was awarded with the "Europa-Lilie (Lily of Europe) 2015" in the "Best Citizen's Commitment" category. The prize is given annually by experts' network "Europa-Professionell", member of the organization "Europa-Union Germany". "Europa-Union" and their media partner Eur.Activ.de invite citizens interested in European politics to file nominations. "The Wanted Danube" had been suggested by Hilde Mattheis (SPD), Member of the Bundestag (German Parliament) representing the Ulm/Alb-Donau area. A commission jury annually chooses three nominees regarded to be the best in each category. The winners are then elected publicly by online poll and "The wanted Danube" had been winner in the category "Best Citizen's Commitment".
Both highly esteemed European awards mean a new peak of success of the "The Wanted Danube" project which gained much media attention in all European countries involved. It is run by a large number of volunteers, its multiple tasks of coordination on national and international level are funded by the foundation "Baden-Württemberg Stiftung".