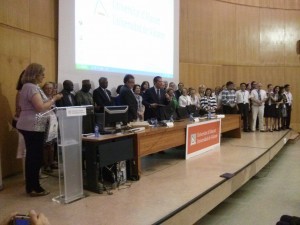 AIUTA International Conference "U3As, Citizenship and Social Cohesion"
Alicante – Spain, Thursday 11th – Friday 12th June 2015
University of Alicante hosted the AIUTA International Conference on Thursday, the 11th – Friday, the 12th June 2015 and the I.A.U.T.A;  96e Governing Board.
The theme of this International Conference: "U3As, Citizenship and Social Cohesion" highlighted one of the priorities for U3As in the 21st century, the social inclusion of elderly as active citizens. Many contributions had been made by representatives from Universities, U3As and policy-makers to inform about the need to focus on seniors' learning and training as a central key in the reduction of poverty and the strengthening of social exclusion among the older segment of the population. All participants from 15 different countries and 5 different continents agreed that older adults' experience must be more valued and that new means and methods must be developed to foster their social presence in a globalized world as active and integrated citizens. Many examples of good practice from all parts of the world had been presented by experts and discussed.
Carmen Stadelhofer, the President of the International Association DANET had been invited to speak about the Social Cohesion of Elderly in the Danube Region. She outlined how DANET tries to promote learning of seniors and intergenerational dialogue on the political level in the frame of the Danube-Strategy of the European Commission, how DANET works on a structural level in cooperation with many national and international organizations from the Danube Region as shown by the project "The Wanted Danube" and what effects animating non-formal learning methods can have on the involvement of older and younger people from different ethnical and social backgrounds.
The conclusion from the conference, which had been excellently organized by the U3A of University of Alicante, had been that U3As have clearly the role of spreading the message about the need of recognition of older adults, about the fact that their integration is an essential goal, and also that this includes the infrastructure for seniors' ongoing learning and training. It is an ambitious aim, which requires the participation of all Universities of the Third Age gathered in IAUTA during the International Conference at the University of Alicante.
You can find the abstract of the talk and details about the other participants in both English and French language here:
U3A's_Citizenship_and_Social_Cohesion-Speakers
U3A_Citoyennete_et_Cohesion_Sociale-Orateurs
The programme of the conference: Le programme AIUTA conference Alicante