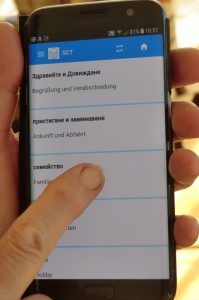 Within the framework of the project Open Doors for Danube Countries for ALL (ODDA), supported by the Baden-Württemberg Foundation, the Heidehof Foundation and the City of Ulm, a tool for low-threshold communication in German, Serbian, Romanian, Croatian and Bulgarian was created under the leadership of the Ulm project team of volunteers. The first approach was lists on paper with 450 questions and answers for easy communication. With Serbian and Bulgarian, limits were quickly reached because of the Cyrillic script. This could have been solved only with phonetic transcription.
However, a retired and passionate computer scientist in the team had an app in mind. He created the structure and design of the app. You can get started by using 15 categories like welcome, hobby, job, family, etc. You will get questions and answers. All are stored as text in the 5 languages and additionally as voice recordings. With one click you can listen to the selected text. It is very important that the app runs without internet connection, because in some buildings and in many rural areas of our partners in the Eastern European countries there is no internet.
The next big topic was who would program the app extremely cheaply or for free. Unfortunately we did not find any support in Germany. After a lengthy search we came across a programmer in Thailand and he is a native of Ulm. He was immediately willing to support us and programmed the app. Since recently the app is available in the Google Play Store for Android smartphones and tablets. For the implementation on Apple devices we are still looking for a sponsor.
Information about the project ODDA of Danube Networkers can be found at www.odda.eu.