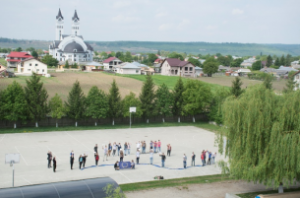 Crossing the Danube River on the ferry from Ruse, Bulgaria, on Sunday, May 17, 2015, to get to our LaSalle partner school, the LaSalle Technical College in Pildesti near Roman, Moldova, was the start to the second part of our trip to partners of our project "The Wanted Danube" in Bulgaria and Romania in May 2015. The students of this school in Pildesti had participated in our project in an especially intensive way.
Carmen Stadelhofer presented the results of the project in a pictured lecture.  Headmistress Cristina Istoc received three "Danube River Carpets" as gifts – one made in Illertissen, another in the Strebersdorf quarter of Vienna, and the third one produced in Pildesti – as memorabilia of the project participation. Then Stefanie Mayer presented the characteristics of the Realschule Illertissen (Illertissen High School) by means of materials which the Illertissen students had prepared for this occasion. As a memory and a symbolic "door-opener" for upcoming activities each assembly participant was given a key pendant hand-made from the Danube friendship bracelet, along with bookmarks which show the results of the project in short.
After this grades 9 and 10 gathered in the schoolyard where they got the task to spread a blue "Danube Ribbon" in the form of a Danube river map and to mark the correct places of all countries related to it. Four workshops were formed to deal with different topics whose results were later presented in public: One group prepared a pantomimic performance based on a variety of keywords concerning the Danube and Europe, another one got busy with internet research on important sights and traditions all along the Danube. Two groups projected ideas for a future exchange with LaSalle school partners and discussed possibilities of treating the upcoming "Bread, Wine, and Herbs" project from students' perspective.
On both sides, Romanian and German, a lot of ideas sprouted on the way in which future cooperation could be made possible. The students consented that the intensification of learning English, even as graduates of technical classes, was necessary to enable themselves to communicate with the partners without a translator. In the Illertissen school the idea of an extra Skype conference room was born.
The end of the trip to Romania was marked by a special impression for the German representatives' group: In the afternoon Brothers Vicentiu and Jose Maria accompanied them on a trip to the close Carpathia mountains to visit the Orthodox sanctuary Agapia, the living and working place of about 400 nuns. Wonderful, perfectly groomed gardens and the impressive paintings inside the monastery's church were admired and the nuns invited the visitors to take a glance at their work at the looms and knitting machines.
Author: Stefanie Mayer, LaSalle Realschule Illertissen, Germany
Translation into English: Antje Bluem