1. DANET Qualification Training aimed at strengthening the civil society and collaboration in the Danube region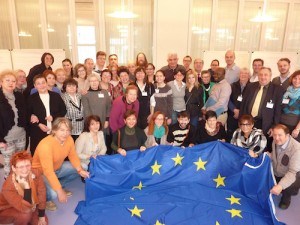 Empowering civil society: 50 participants and great ideas at DANET's first qualification seminar
The "Danube-Networkers for Europe" (DANET) e.V. has organized its first qualification seminar for 50 civil organization chief executives from all countries situated at the Danube river. The participants stayed in the "Haus auf der Alb" conference house in Bad Urach from December 8th to December 12th, 2014. The goal of the seminar was to enhance the cooperation of civil society organizations in the European Danube Area and strengthen their capabilities in terms of project design and proposal writing.
The participants, residents of twelve different countries,learned more about the Baden-Württemberg Foundation and it programme "Perspective Danube: Education, Culture and Civil Society". Representatives of the State Ministry of Baden-Württemberg, Ministry for Education, Youth, Sport, Europa Zentrum Baden-Württemberg – Institute and Academy for European Affairs provided the participants with information about European Union project-supporting measures suitable for transnational educational work in the fields of senior adult life-long learning, social participation and inter-generational dialogue as well as about EUSDR.
As a part of application procedure, training participants submitted their project ideas and initiatives they would like to deal with. With professional support of coaches Michael Seidler und Andy Stirnal from EuroConsults (Berlin) and Anna Ditta from ALDA Vicenza (Italy) as well as our  experienced experts and associates Gabriele Körting (Ulm) and Ljiljana Zizic (Backa Palanka) Serbien, participants managed to build small groups around 6 project ideas. A work in small groups created a solid base for project proposals on later stage.
The "Environment" group designed an intergenerational project of protecting endemic plants of the Danube Region: groups of senior citizens should cooperate with groups of young students in growing, defining and cataloguing plants in a botanical garden, comparing the variety of endemic plants and developing protective measures together. The "Food group" brought up ideas how to enhance integration of handicapped people in Danube festivities in different countries and special participation made for them, such as olfactory and haptic activities for blind people. The group dealing with culture topics created a digital interactive culture path along the Danube. The working group "Education" pointed out project ideas for the development of "Green jobs" for young jobless people. Each project outline was made in the form of a first application draft, following special EU funding programs put out for tender, to be refined later. After training participants continued with their collaboration and created several proposals based on project ideas from Bad Urach. Six of them have already been submitted for a grant in 2015. That are "Personal Stories – EU History", Increasing regional understanding by building language competencies and digital competencies. Build relationships between cities and towns in the Danube region, There was my factory (MYF), The Day After: Postwar everyday city life, Conceptualizing and implementing the role of cultural mediators and mediating in museums, and DanceLit.
The five-days seminar was supported by the foundation "Baden-Württemberg Stiftung", and run in cooperation with the "Landeszentrale für politische Bildung".
2. Project "The wanted Danube"/ "Die gewollte Donau" – Results and further actions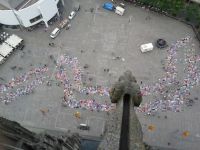 The successful project "The Wanted Danube" demonstrates how mutual knowledge and first steps of mutual friendship between people from all over the Danube Area can develop from a hand-crocheted friendship ribbon. The project was initiated in November 2013 by the Ulm-based educational network "Danube-Networkers for Europe (DANET) e.V." in cooperation with partner organizations from eight Danube countries. The presentation of the "common Danube-River carpet" on the Cathedral Place in Ulm during the International Danube Festival Ulm/Neu-Ulm on July 13, 2014 included representatives of all involved institutions and was a big public success.
Designed as a parallel to the European Union's Danube Area Strategy, which involves politics and economy, the goal of "The Wanted Danube" was to involve the people on a personal level. They should view it as a positive challenge to get involved with each other and to improve their mutual knowledge, especially people from Western and South Eastern Europe as well as the people from different ethnicities in various Danube countries. The output of the project is unique. More than 6.000 people from Germany, Austria, Slovakia, Hungary, Croatia, Serbia, Romania and Bulgaria took an active part, seniors as well as pupils and students. 1.457,99 km of friendship ribbon were crocheted, 3.649 "river-piece carpets" were hand-crafted by the participants, along with many cultural and educational side events. There were demonstrated fabulous engagement and interest in the Danube area. The Danube region became a topic of many school classes. Wide-spread media coverage turned public interest to the project.
The project evaluation showed high outcomes on the individual level as well as on the group and institutional level. The "river carpets" and many hand crafted wool products, such as bags, blankets, cushions and more made from the friendship ribbon after the July 2014 presentation, are given for donations which are used for social purposes and Danube-focused educational activities developed together with the partners from the Danube countries. In the end of February 2015 the amount of donations has run up to 13.000 Euros. In October 2014 two educational institutions in small villages in Serbia and Croatia, which were damaged by the latest flood catastrophe, were restored with the support from the "Wanted Danube" donations.
Partners: The project "The Wanted Danube" was initiated as a mutual project of universities and civil society organizations in 8 Danube countries, in cooperation with the Danube Office Ulm/Neu-Ulm and the international non-profit organization "Danube-Networkers for Europe" (DANET e.V.), which was founded in Ulm in March 2014 out of the educational network "Danube-Networkers". The project was coordinated by the "Institute for Virtual and Real Learning in the field of Adult Education at University Ulm" (ILEU) e.V.
The "Wanted Danube" / "Die gewollte Donau" project is continuing with new activities in April and May.  On 29/4 will be organised Danube Networkers Day (DND) in Jamena (Serbia) together with participants from Backa Palanka and the area around (Serbia), Gunja and Vukovar (Croatia) and Bosnia,  on 15/5 in Ruse (Bulgaria). In Silistra (Bulgaria) the DND is supposed to be on 16/5 and Pildesti (Romania) on 18/5/2015.